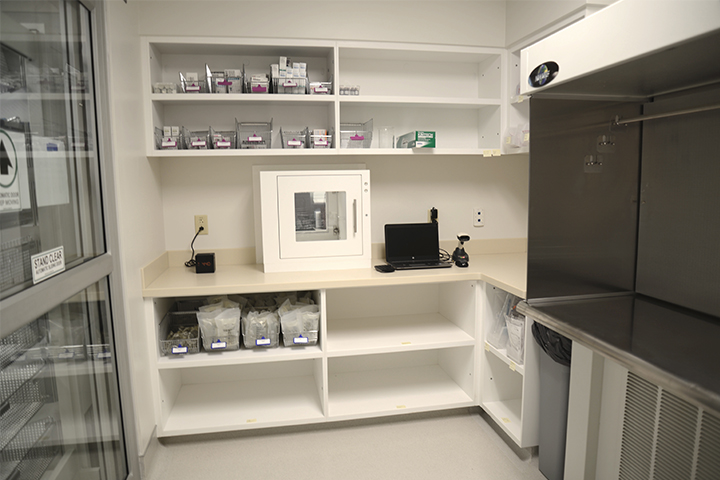 Pass throughs: solid surface vs stainless steel
Hospital clean rooms necessitate the best materials that will maintain cleanliness, boost efficiency and save time and money. Pass throughs are common in most clean rooms due to their workflow improvements, but they aren't always designed in the most effective way with the most effective material. Many pass throughs utilize stainless steel, which is a durable, strong material, but it's not as flexible, clean and affordable as solid surface. Using solid surface for these pass throughs can make them even more effective in terms of cleanliness and workflow, and this can save time and money both short- and long-term.
Here are some of the main benefits of using solid surface for clean room pass throughs:
Design flexibility
Solid surface is customizable on many fronts, giving you maximum design flexibility that can't be found with stainless steel. Solid surface comes in a wide array of color options, it can customized to fit your space needs, and it has almost limitless design styles. Whatever your needs might be — whether due to space limitations, staff needs, aesthetic appeal and more — solid surface pass throughs can be designed to meet those.
Lighting and technology integrations and workflow improvements
Shield's solid surface pass throughs boost efficiency with the integration of technology. We've included indicator lights that tell staff when supplies are ready to be transferred. For example, when drugs are fully mixed and ready to be transferred from the clean room to their destinations, they are placed in the pass through. An indicator light alerts the person on the other side that the drugs are ready, which allows the person mixing the drugs to begin the next one without delay and prevents staff members from having to walk over to the pass through and check for the material.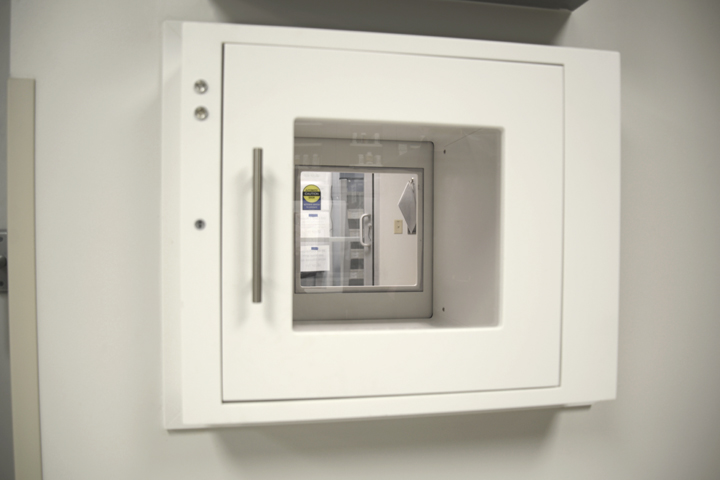 Moreover, electronic magnetic locks on our pass through allow only one side of the pass through to be opened at once. There is no possibility that both sides could accidentally be opened, which means the room's cleanliness and pressure can't be compromised. Even during the busiest of times, electronic magnetic locks effectively maintain cleanliness, saving potential lost time.
Seamless covered corners
No matter how cleanable a material is, it often is difficult to clean its interior corners. Stainless steel corners are tight and extremely difficult to clean, which means they more easily harbor bacteria and germs. But with solid surface's flexibility, Shield can create coved interior corners that make germ and bacteria buildup extremely easy to prevent. All spaces can easily be reached and wiped clean with disinfectant cleaner, which ensure that, even when doors are opened, the clean room remains sanitary.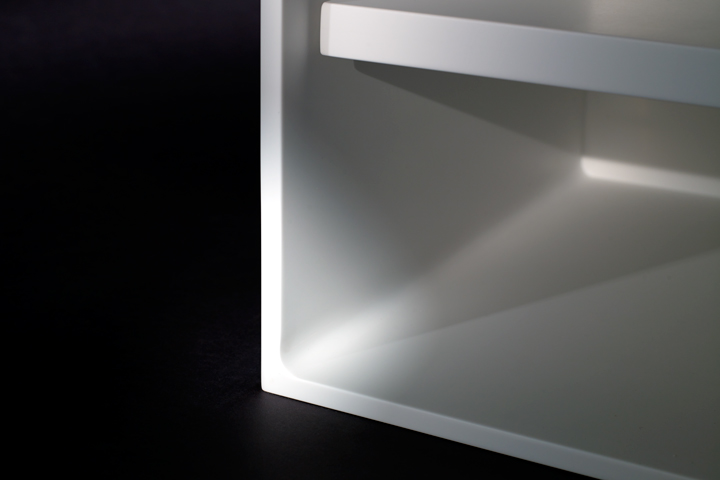 Affordability
Stainless steel offers the durability and cleanliness of solid surface, but it costs much more than the latter. Solid surface is typically 30 percent cheaper than stainless steel. Add in its easy repair should any damage occur and its ability to be customized later to fit changing needs, and its value outpaces that of stainless steel. Moreover, its added cleanliness with coved corners and electronic magnetic locks and its added efficiency with indicator lights makes a solid surface pass through an effective workflow solution.