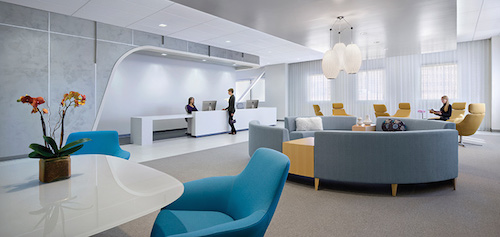 How to make your business stand out in the new year
No matter the industry, there's loads of competition. Colleges compete with universities across the country to recruit the best athletes. Dozens of hospitals in every state try to outdo the others to become the go-to when healthcare problems arise. Retail store after retail store vies for the attention of customers. Amidst the sea of choices, businesses must do all they can to distinguish themselves. Here are a few ways businesses can make themselves stand out in the new year.
Sports teams
In the modern sports world where each team has something better to offer players than the previous, teams must find new ways to stand out and become the top choice.
One way is through amenities. Training facilities, locker rooms and collegiate dining facilities all have great potential. Many teams have tapped into this capacity, adding luxurious hot tubs to their locker rooms and hundreds of the best exercise machines to their training facilities.
Beyond this, though, teams can add safety measures. The Charlotte Hornets, for example, updated its locker room and included solid surface lockers that give players adequate room for their personal belongings while maintaining the high-class feel of the overall environment. Most importantly, though, the material adds a cushion of safety; because it is nonporous, it doesn't harbor bacteria and germs, which is very important in sports locker rooms where MRSA has proven prevalent. Like many aspects of these new sports facilities, the lockers were a small touch, but it's exactly those small touches that can make a sports team stand out in the new year.
Hospitals
Patients want a lot when staying in a hospital. They want positive interactions with staff and clear communication, easy access to technology and facilities, an affordable experience, a clean room and much more. In order to meet these wants, hospitals are building ever-fancier facilities with more visually pleasing design elements, more technological-integration and more components that lend hospitals to patient-centered care.
There are countless ways to improve the patient experience — ways that likely haven't even been discovered. Designs get more elaborate seemingly every day. Many facilities find ways to bring the calming effects of nature indoors. Designers use the psychological effects of color to play to the environment of the facility.
Overall, though, what patients want most is a safe, successful experience. They want to get well and get well fast. One way facilities can stand out in the new year, then, is by ensuring they create environments that are sanitary. Architects can specify materials that naturally ward off bacteria. Spaces can be designed with cleaning crews in mind. Healthcare furniture such as documentation stations and mobile carts can be designed and manufactured so as to make sanitation easier on staff.
By keeping cleanliness in mind when designing and manufacturing hospitals and hospital furniture, healthcare facilities can better protect their patients from bacteria and germs, ensuring future patients of their safety.
Retailers
Go to any city, big or small, and you're sure to find rival supermarkets or competing clothing stores within a few blocks of each other.  There are hundreds of retail shops in cities across the country. So how can retailers get customers to choose their store over the nearly identical one five feet away? This is, of course, no new battle, but it's one often fought with prices. Have lower prices than your competitor, get more customers. When prices can't go any lower, start offering customers perks every time they spend a certain amount of money. Give them money off gas. All of these approaches work — and they work well. But retailers can reach beyond the wallet to attract customers to their store.
The design and layout of a store can subtly but greatly influence a shopper's experience. Supermarkets that are packed full of every possible brand of canned corn and toilet paper may not attract as many customers as does the store across the street that has wider aisles and fewer options. Shops that maintain a clean appearance — clean floors, organized products, clear aisles—are more appealing to the majority of shoppers.
Durable retail shelving that maintains a high-end appearance while also organizing products makes for a cleaner, more navigable store. Paying careful attention to store layout and design will help retailers stand out in the new year. By improving the design, retailers can improve the shopper experience.