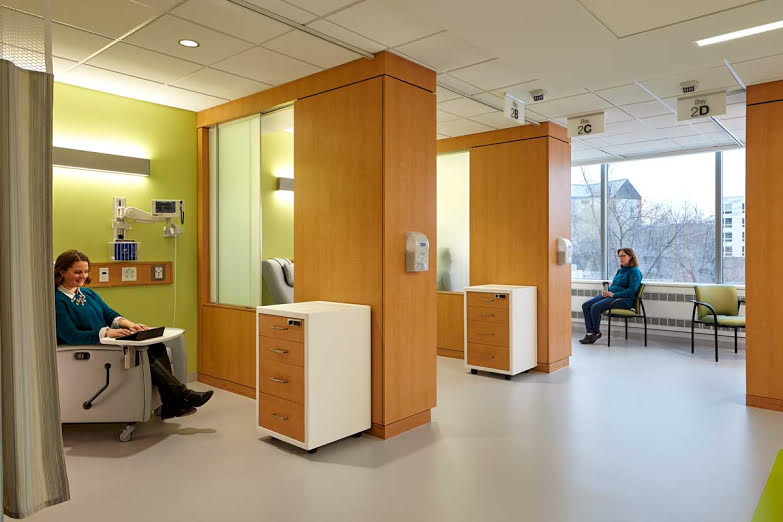 3 ways good design can improve your clinical space
Design is not just making something visually appealing. When done well, design results in a product that is both purposeful and beautiful.
Good design can improve clinical spaces immensely, which is something we and our clients have experienced firsthand. Our mobile infusion carts for University of Minnesota Health and our headwall for Advocate Lutheran General Hospital both took a product that was basic in look and function and added improved aesthetics and functionality.
Read about these products and the 3 main ways good design can improve your clinical space.
Improve workflow & staff ergonomics
Products that are well-designed can and should finesse workflow and boost efficiency. If furniture and equipment is truly well thought out, it makes day-to-day work smoother, and it adapts the job to fit the user.
Our mobile infusion carts accomplish this through their customizability. They are designed for evolving environments that will have new needs but the same amount of space year after year. Some of the main benefits include:
They give staff the ability to select the number of drawers and doors they would like, allowing them to customize the product both to the space and to their needs.
Optional casters make the piece easily moveable, allowing individual staff members to place the product wherever best fits their workflow.
Flexible sizing of drawers gives staff members the ability to further customize the product to their needs.
The cart's modularity means parts can be replaced or changed depending on the staff and environment.
Better workflow and staff ergonomics is one of the ways good design can improve your clinical space, but bettering patients' time in the hospital is just as important.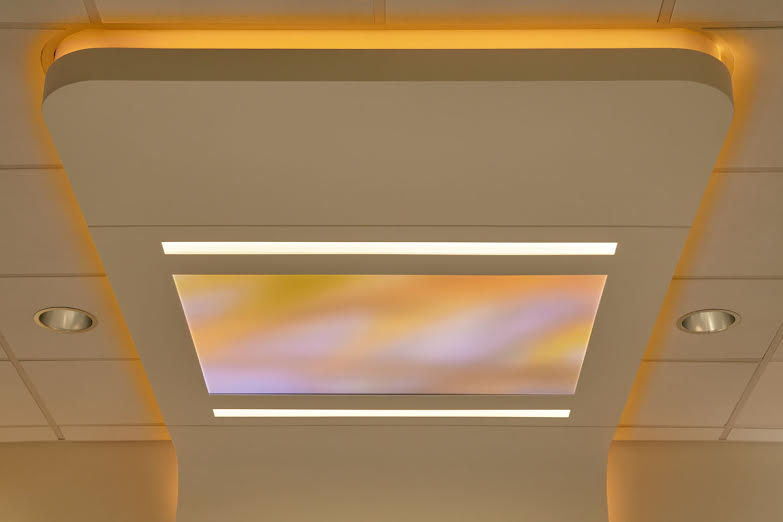 Improved patient experience
Improving environments for staff is good, but the effort is wasted if patients do not also benefit from changes. Now, often times, if staff members have an improved workflow, fewer daily challenges, etc., they will be able to spend more time with and provide better care of patients. Good design can improve your clinical space in other ways that boost the patient experience, as well.
Our Cardiac Catheterization Laboratory Recovery Bay headwall that was produced in partnership with Philips and Anderson Mikos does this by taking a standard, clinical product and vastly improving its design and function to focus on improving the patient experience. Benefits include:
It features integrated lighting and a luminous textile panel that is customizable and helps bring patients out of anesthesia naturally and comfortably.
Typical headwalls serve only as a place to run the medical gases and electrical outlets required for patient care.
It still provides all the normal functions of a headwall, but adds new functions that benefit patient and bring higher aesthetics.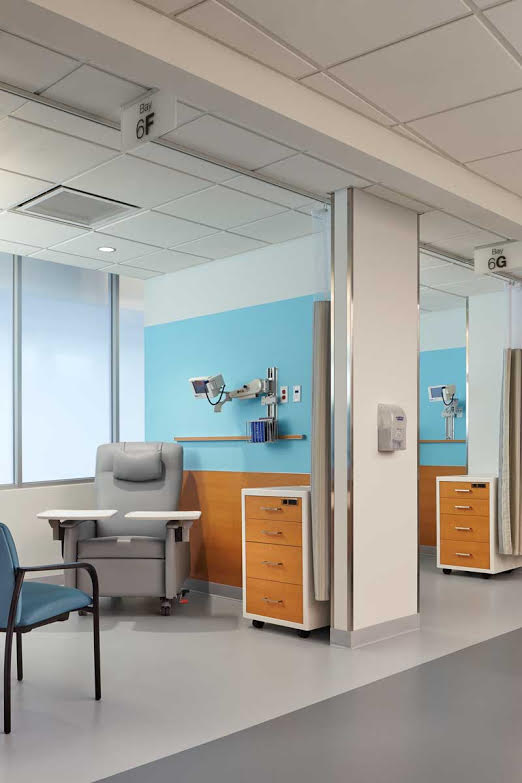 Reduced stress for clinicians, patients and visitors
Just as improving workflow and staff can improve the patient experience, it can also result in reduced stress for the clinicians themselves, the patients and the visitors. When clinicians' days go more smoothly, they are less stressed. When they're less stressed, their patients and visitors are less stressed. It's a trickle down effect that all starts with well-designed products that improve workflow.
Our headwall also greatly contributes to reduced stress among patients in particular.
Its soft,overhead colors in soothing, flowing patterns provide a calming feeling.
It helps bring patients out of anesthesia.
Its clean design creates a better overall appearance that is calming for clinicians, patients and visitors.
More relaxed patients results in more relaxed visitors of patients.
The same is true of our mobile infusion cart. Its clean design creates a cleaner overall atmosphere, and the cleaner and simpler the space, the more relaxing it is. We approached this mobile cart design from the aspect of taking something that is utilitarian and making it beautiful without sacrificing function. This cart was designed to be a design focal point instead of an equipment necessity.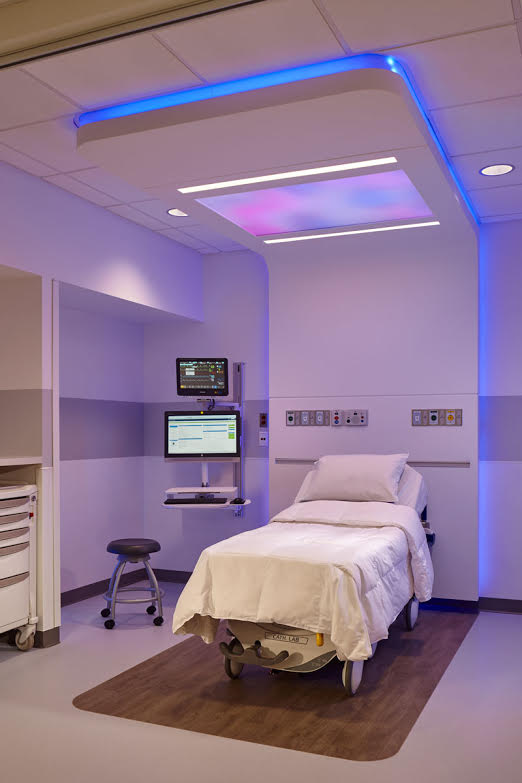 Good design can improve your clinical space in many ways beyond these. With good design comes improved function and aesthetics, as well as improved workflow, better patient care and overall less stress.